The team behind BabyNaps
We, the creators of BabyNaps, have one and only one thing in mind - parents and their needs. It is from this very notion that the sleep app with the same name was born. We recognized the immense, vital, and worldwide challenge that parents face when trying to get their baby to sleep.
150K+

downloaded the app

500K+

active sessions a month

200K+

visits babynaps.com each month
We're your sleep squad

At BabyNaps, we're the sleep gurus for babies. Plus, we're pretty darn good at crafting digital solutions and content that hits the spot for parents. Put those together, and you get BabyNaps - the app that helps babies and parents all over the world sleep like a dream, night after night.

We want you to get a good night's sleep

Getting a good night's sleep is crucial for your baby's development on all levels: physically, emotionally, and cognitively. And a well-rested baby sets the stage for a balanced parent. At BabyNaps, we provide you with the tools you need to establish sleep routines that work for the whole family. Sleep tight!

We're tired of tired parents

Being a parent comes with a lot of worries. "Why is sleep so challenging? Will I ever figure out how to get my baby to sleep?". Being a parent also means often feeling tired. We want to free parents from worry and sleep deprivation. We believe that all babies deserve to sleep well (and so do their parents).
The app you (and we) needed yesterday
We, the creators of BabyNaps, know how exhausted new parents can bes. Believe us, we've been there too! Wrangling those baby routines can be a real struggle. It can leave you feeling beyond exhausted. We remember the battles of getting our little ones to sleep, and searching high and low for a routine that worked for the entire family. We had enough of ineffective sleep methods. Frustration got the best of us, and that's when the lightbulb moment happened — BabyNaps was born! Our mission with BabyNaps is to create a haven where parents can find everything they need to feel confident. We're all about helping babies sleep better so that parents can catch some well-deserved zzz's too. The minds behind BabyNaps are also the creators of Rulla vagn, Sweden's largest community for parents of young children. We're Evelina Åkerberg and Mattias Åkerberg, proud parents of Elis and Ilse. We launched Rulla vagn in the spring of 2016 and have decided to transform it into BabyNaps in the summer of 2023. This marks the beginning of an exciting global app journey.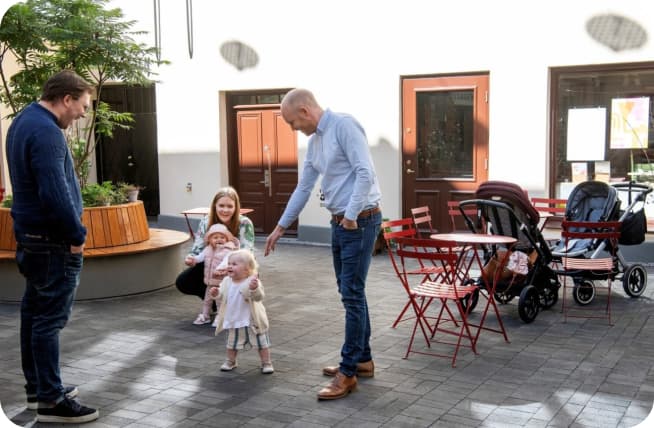 Meet the team behind BabyNaps
Get to know everyone at BabyNaps
Julia González

The social media hero

Eva Vall

The customer care captain

Johan Herrmann

The ROI magician

Oskar Nyström

The lullaby maestro

Alexey Zverugo

The master of projects (Nozomi)

Vova Kovalenko

The UX visionary (Nozomi)

Alexey Losskiy

The design picasso (Nozomi)

Alexander Kiseliov

The code commander (Nozomi)

Mikita Sazanchuk

The code crusher (Nozomi)

Yauheni Basalyha

The node.js ninja (Nozomi)